THIS... is what this website is all about!

A vessel of amazing abilities. A boat which reinforced the confidence of its crew. A tool for saving lives. It was "the little engine that could",...or the "Old Sea Tractor" as one crewmember put it. It was a symbol of honour and pride.
It wasn't perfect, but you might get an argument on that from those rescued. Raging surf, terrible undercurrents, rocks nearby, horrendous weather.....the 44's worked hard, at the hands of their crew, and DID...THEIR...JOB!
That is what many of us see as the ultimate achievement over the long run....doing what you were hired to do.

The mightly 44's deserve a little recognition, just as we do, after a lifetime of honest effort and an offering of blood, sweat and tears (or maybe, diesel fuel, prop thrust and hull damage).
Within this website we will try to show the revitilizing of 44 MLB #377, and the journey from forgotten hull to voyaging cruiser.
Much has already been said and documented about the 44's in the fine website: www.44mlb.com, and we have no wish to duplicate that so we will try to add to it,...and keep the 44's alive, through memory, image and history.

Let us close this page with two more action shots of the 44.
We thank the unknown photographers for their great effort.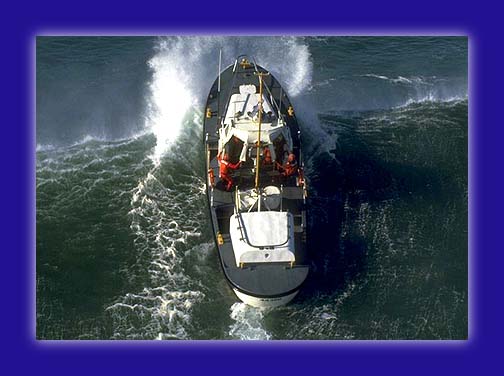 Any objections to any of these photos shown on this website can be addressed to: Kitlani22@gmail.com
Any offence is unintentional and the photos in question will be promptly removed.
This website, created and maintained by